Guiding Public Safety System Integrators to Better Business Performance & Outcomes
If you're in the public safety – red box business, then you know there is a lot at stake. To keep first responders safe, our business, your business, must be successful. The Fiplex Team understands the risky nature of public safety and it shows in the Fiplex FLEX platform. It's why every aspect of the Fiplex FLEX platform is engineered to better support your business operations and accelerate the Public Safety Integrator's Mission. Better Buildings, Better Business, it's our commitment to first responders and our channel partners. ​
Check out our FLEX Integrator Tips, where FIPLEX is logging integration tactics that deliver Better Business for System Integrators.​
F I T |

Save installation time!
​
Keeping an ERRCS project on schedule, without compromising the installation quality, is simply better business. But there are endless tasks and surprises that create delays, and even worse, questionable installation methods that produce less than desirable outcomes. One element that has been in practice for decades has been the field termination of communication and power cables. These are time-consuming and rely on having a stock of material and the installer's training and attention to detail for an install to perform as needed. Whenever possible, System Integrators should opt to use factory-manufactured cable assemblies and jumpers in lieu of field terminated assemblies. This is one time where the cost offsets the risk.
Fiplex provides pre-connectorized code-compliant cabling to ensure all your projects stay on schedule and budget not to mention perform to the highest standard.
F I T |

You bid the project once, don't install it twice!
​
There are hundreds of reasons to make that unplanned trip to the site. The worst though has to be that you need to rip and replace the BDA. Not enough power, incorrect filters, Class B not cutting it? All would require a replacement unit, that is unless it's a Fiplex FLEX BDA.
Fiplex FLEX is Software based, all upgrades and configurations can be made in the field, in the shop, at anytime and with connectivity, from any location.
F I T |

Reducing Unplanned Site Visits Protects Your Bottomline
Two days after a job's completion and you get the call, "can you get someone over here to turn off this alarm?" Sound familiar?
Oscillation is a possibility with any BDA or DAS deployment. Most solutions will detect oscillation and generate an alarm, but often these alarms are false positives.
A Fiplex FLEX system monitors oscillation based on your defined thresholds and automates a customizable response to verify that the issue actually requires a dispatch. First, the system is placed into safe-mode to protect macro network integrity and after a defined interval, will automatically reset service and put the system back online. The Fiplex FLEX oscillation mitigation tool is just one of the many Better Buildings, Better Business features that protects the macro network and your bottom-line.
F I T | Built-In Spectrum Analyzer
Field testers are a vital tool of the RF system installer. It can also be a bit of a headache. Managing, tracking, calibrating and keeping it charged adds to the installation effort. Fiplex FLEX BDAs and DAS units include an on-board, IP based, browser ready, spectrum analyzer. Where or who has the meter? Is simply a question that never gets asked on a Fiplex FLEX deployment. Even better, it's not thousands of dollars, it's included in the base price! Better Buildings, Better Business.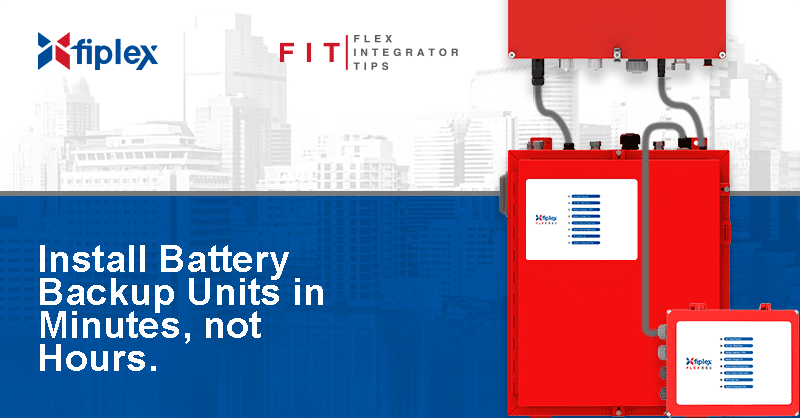 F I T | Plug and Play BBUs ​
The Fiplex FLEX BBU or battery backup unit, ships with factory terminated connectors that are "plug and play" ready. You can leave the strippers, connectors, and crimpers in the van as there is no field termination or access the chassis interior required to install a FLEX BBU. Depending on your project, you can save hours of onsite installation time